I do not recommend any professional photographers or studios. Although I can form opinions based upon what I see when they take their pictures, I never see the final results. Therefore, I do not feel qualified to judge their work or make recommendations.
However, I use a couple amateur photographers that do what I feel is very good work, which could even be considered excellent work for amateurs. And their prices are downright reasonable. Unlike other photographers that will seek or even require commitments for expensive photo album packages, these amateurs only take the digital pictures, in a high-quality format, and mail you a CD after the event. You are then free to do whatever you want with the pictures, including presenting the CD to a photography studio to make an album, bringing them to a photo processing center for enlargements and prints, or even asking me or them about these options.
The following is a sample of the work of one of these fine amateurs. I plan on including more samples as more clients give me permission to use their photos in this manner.
---
This interesting shot was taken before the guests arrived. It is a shot of the mirrored ceiling.

If not for that previous shot, you might think that this one was taken thru a glass floor one flight up. This is Sarah, the Bat Mitzvah girl, reading her speech, taken from 'above' by shooting the mirrored ceiling.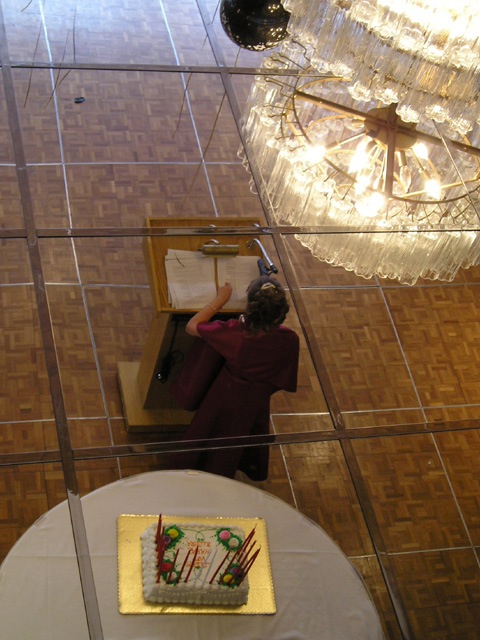 I have pointed out both of these mirror shots because, even though this photographer calls herself an 'amateur,' how many amateurs would have thought to take a shot like that?
All of the amateurs I use have a very keen eye and get a wide assortment of interesting, unusual shots, as well as the expected shots.
As is the custom at Jewish events like this Bat Mitzvah, the honoree is raised in a chair while the guests dance in a Hora.


The colorful streamers you see are from a streamer cannon I typically use once per event.
Very popular at youth events are give-aways such as these inflatable sneakers. Other items can make a big impact at weddings if desired. Visit My Party Store for more info.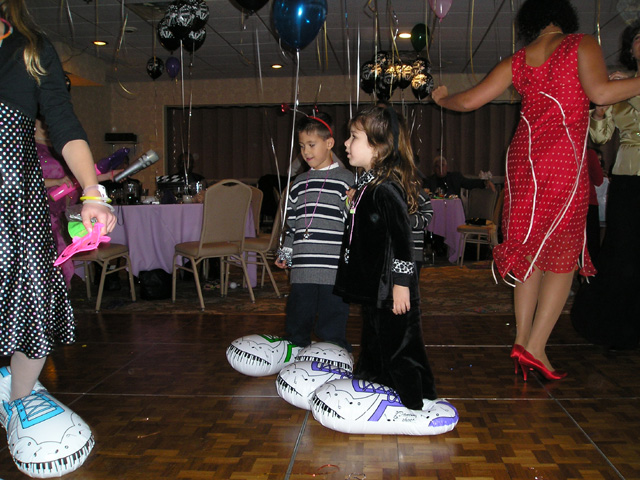 It kills me how cute and photogenic the Bat Mitzvah girl is.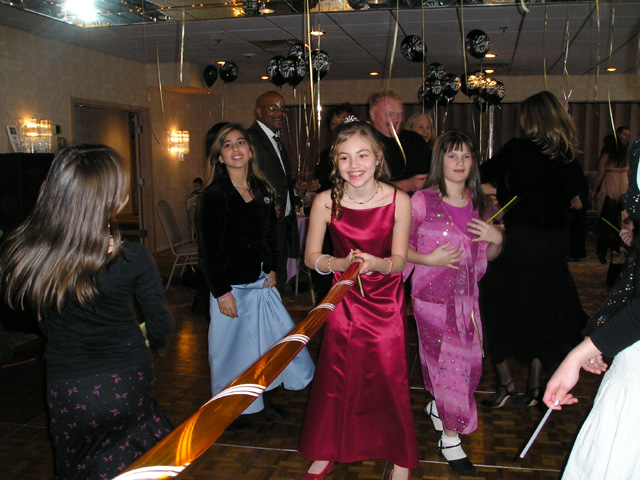 I saw my amateur photographer take this shot. I was worried that she was taking photos where the background had better illumination than the subject. I guess with the right equipment, the old rules no longer apply. Apparently, my 'amateur' knew more about photography than I did - which is another reason why I recommend her.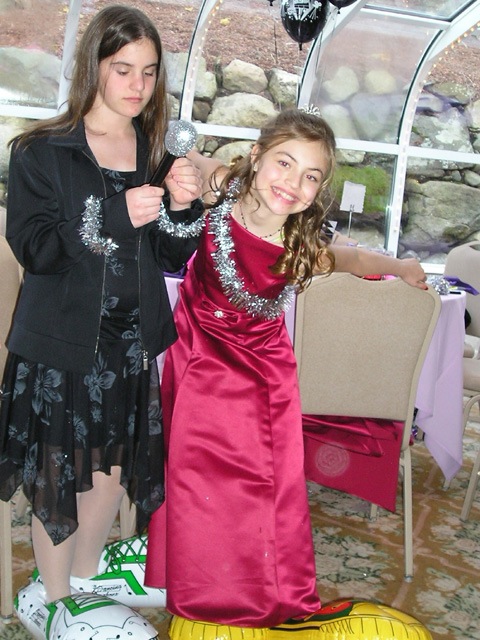 If you like what you see, let me know and I will get you in touch with one of these very professional, 'amateur' photographers.